Meet Hunter Foods at Gulfood 2019
Come and meet us at stand #507 in Hall 5 & stand #D6-29 in Hall 6 and experience Better for You products !
The five-day mega exhibition, which runs until Thursday 21 February, has once again attracted high-calibre interest including ministers, top trade envoys and national organisations from the four corners of the globe. The show offers a platform for game-changing business deals, new market opportunities and emerging trends while setting the agenda for the future of food.
Opening Times: 17th – 20th Feb (Sun-Wed): 11am – 7pm / 21st February (Thu): 11am – 5pm
Hunter Foods had another amazing year since last Gulfood! We have seen our Hunter's Gourmet Hand Cooked Potato Chips being more popular and loved than ever; Our heritage brands Safari/Aladin and AliBaba potato snacks are still going strong and savoured by all; Our Hunter's Gourmet superfoods range has really energized the wide-spread fitness movement in Dubai and the region; Our alternative snacks, Hunter's Gourmet Mixed Vegetable Chips, Mixed Fruit Chips and Beetroot Chips are becoming a go-to item if anyone wants to snack on something different/more interesting and better in their own ways.
Hunter Foods has decided to use 100% sunflower oil, rather than what we have been using, sustainable palm olein oil, to make all our premium range of snacks in 2019. This is a true commitment to our Better for You promise. We would like to give our consumers ever more natural, wholesome and eco-friendly snacks and foods. In addition to many positive functional benefits, sunflower oil has many health benefits: it is rich in Vitamin E and low in saturated fat, and contains selenium that is beneficial in reducing the cardiac risk.
We see that customers demanding constant innovation whether in product or flavours, wanting both health and taste, while with packaging to be environmentally friendly. We are doing all that at Hunter Foods! We are launching the following products to "up the game" and satisfy our customers' desire of better living and better eating. We are also busy reviewing recyclable and biodegradable packaging, whilst changing the oils that have the lowest Saturated Fats, but still give our products the most stability in the intense heat of the summer in this region.
Hunter Foods is excited to announce the following new products and even a whole new range of products in the UAE/GCC market and the world.
LAUNCH at Gulfood 2019: Hunter's Gourmet Hand Cooked Potato Chips, Gold Edition
Hunter Foods has just taken Hunter's Gourmet to the next luxurious level with the launch of its first super premium gourmet flavours, Black Truffle, Thai Green Curry, Wasabi and Turmeric and Cherry Tomato and Olive, under the Gold Edition.
By simply opening the canister, the captivating fragrant aroma will come straight at you, making your tasting buds full of anticipation. The golden potato chips are thicker cut and hand cooked into perfection, with the irresistible flavours engulfing each bite of that savoury crunchiness. These chips would be some of the most decadently delectable chips that you would have ever had! All it is left would be for you to burst out with "Wow, that was amazing!".
LAUNCH at Gulfood 2019: Hunter's Gourmet Quinoa Chips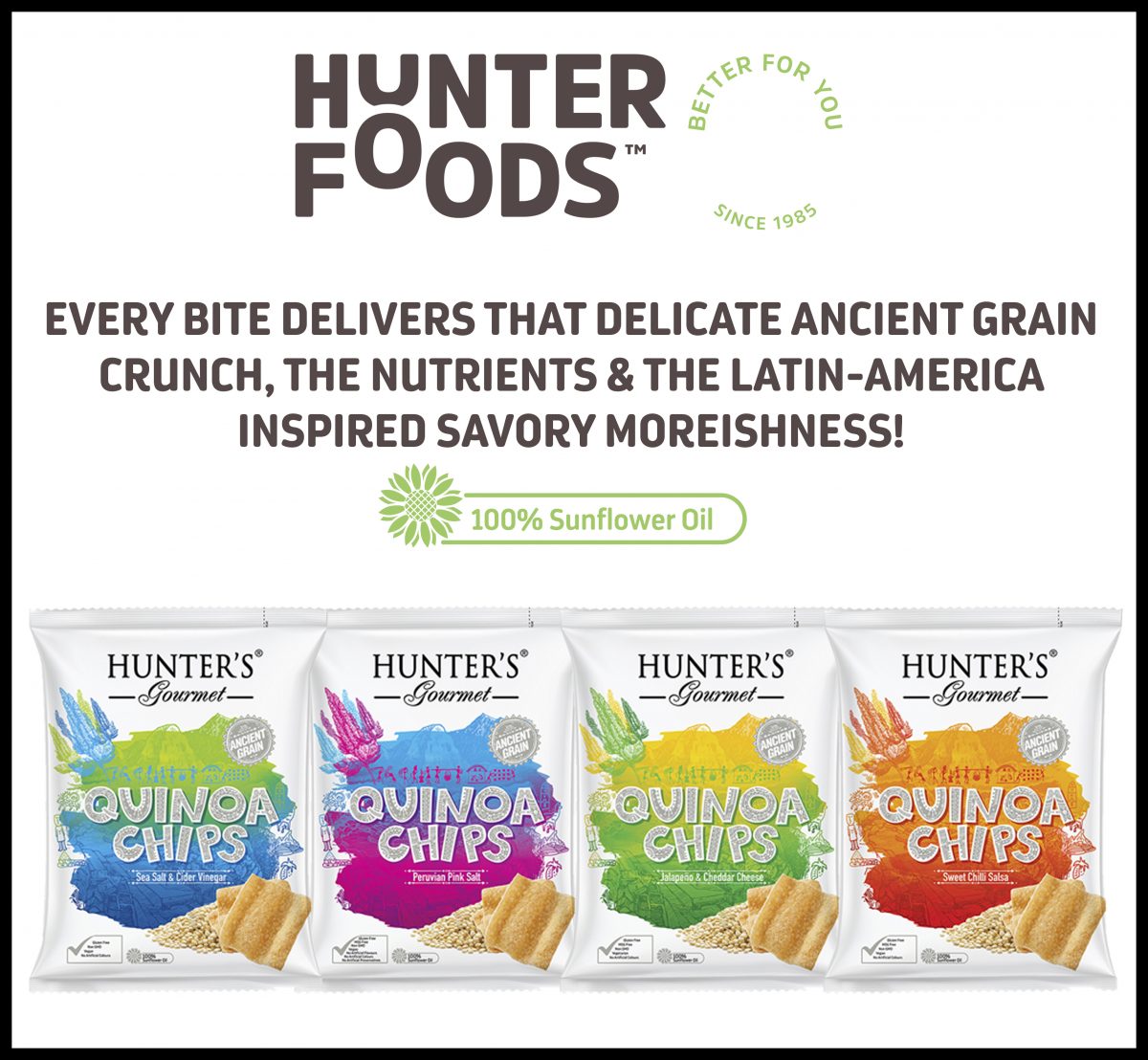 Hunter Foods is launching these Ancient Grain snacks with 4 delicious Central/South American inspired-flavours: Sweet Chilli Salsa, Peruvian Pink Salt, Sea Salt & Cider Vinegar, Jalapeño and Cheddar Cheese.
People are falling in love with them instantly. They are so simple and yet so tasty. These wavy, harvest-golden Quinoa Chips are full of the goodness of the ancient grain, Quinoa, one of the superfoods that the Incas referred to it as "Mother of All Grains". They are powered with the tangy, sweet, spicy and savory tasting sensations of the awe-inspiring region. In addition, these chips are completely gluten, MSG and GMO free, with no artificial colours, and suitable for vegans! Another delightful addition to our Better for You range of wellness snacks!
LAUNCH: Hunter's Gourmet Mixed Tropical Fruit Chips, Snap Pea Chips & Mixed Root Chips Jalapeño Flavour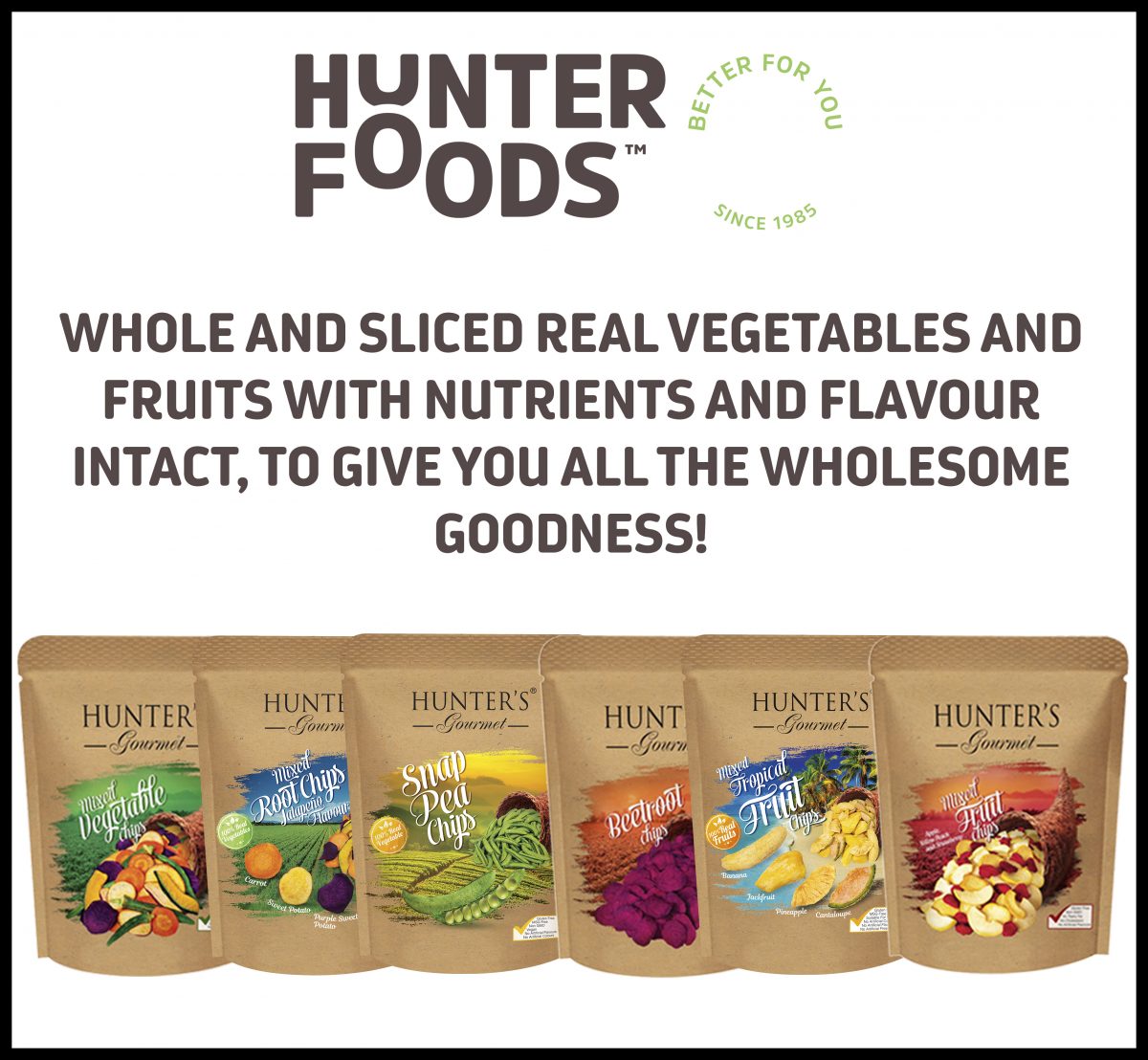 Many Moms quickly made them into their favorite snack and their kids' snack boxes' stable. Now with these three new more-ish options, the "crunch crunch" healthy bites will get even more interesting and adventurous! Try them today!
We are so proud to have been awarded the winner of Best New Product Development of Gulfood 2019, with our Hunter's Gourmet Mixed Tropical Fruit Chips.  Gulfood Innovation Awards celebrate and reward excellence across brands and products.  This year is also the FIRST year that Gulfood Innovation Awards launch this very category!  What an honour and privilege for us, a Dubai-born company and product of U.A.E. to win this award!
LAUNCH at Gulfood 2019: Hunter's Gourmet Brown, Red and Black Rice Bites cooked in 100% Sunflower Oil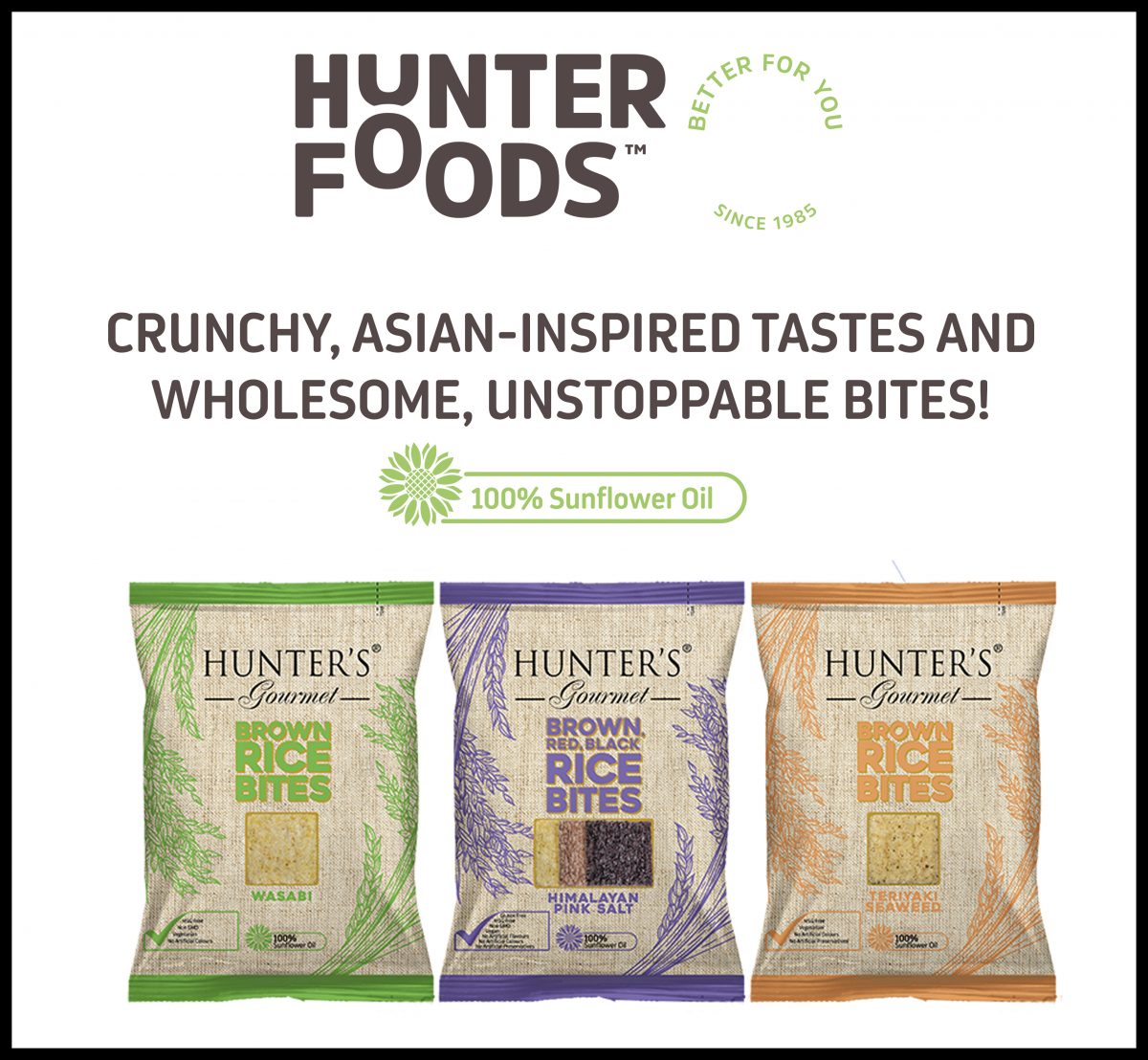 Hunter Foods will launch its hugely successful rice bites under Hunter's Gourmet, where the rice bites are cooked in 100% sunflower oil, with 3 completely Asian-inspired flavours, Brown Rice Bites Wasabi, Brown Rice Bites Teriyaki Seaweed, and Brown, Red, Black Rice Bites Himalayan Pink Salt!
At Hunter Foods, we believe that the key to great products are great ingredients. That's why our Rice Bites will bring you a delightful snacking experience full of natural deliciousness. Each pack contains bite -size crackers, so that you can throw them into healthy packed lunch boxes or devour them straight from the pack!
Exclusive Distribution of two more international brands under Hunter's Collection: Flahavan's and Kambay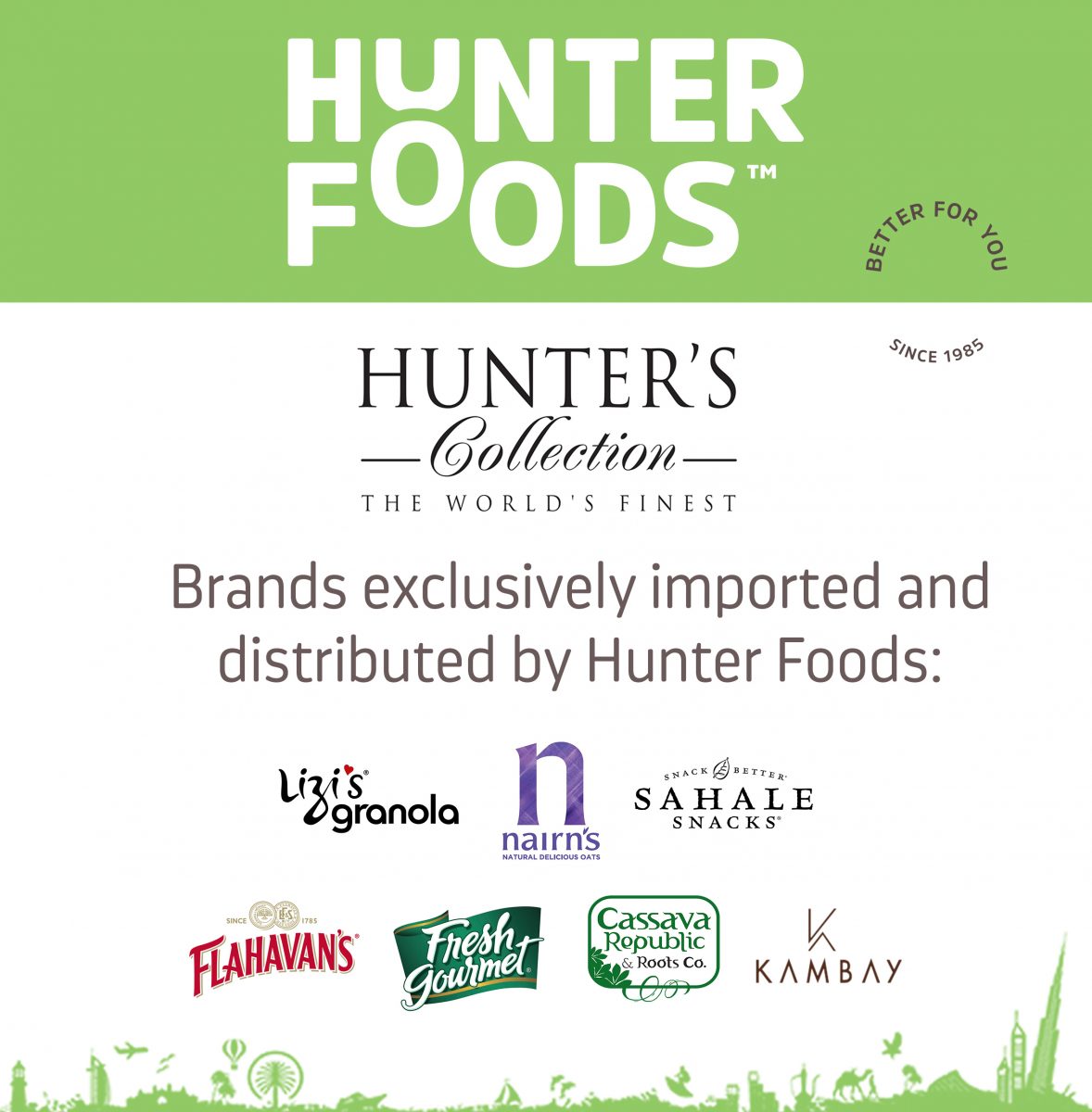 Flahavan's oatmeal has been made by an Irish family business since 1785. The family mill in the Southeast of Ireland produces oatmeal in small batches, using the same milling methods handed down over seven generations. The Flahavan family has been sourcing Barra and Husky oats from the same local family farms
for generations, producing naturally delicious oatmeal in a sustainable way, using its own renewable energy and ensuring that customers enjoy the most naturally creamy oatmeal on the market today.
Kambay goes great heights to get you the perfect King Coconut for its water within. The name 'Kambay' comes from the rope that the tree climbers use to lower the King Coconuts to the ground. They do not add any sugar, preservatives or any other additives to their products. Studies show that a single serving of King Coconut water contains more potassium than a banana, has a better composition of calcium and magnesium than an orange, and just the perfect sweetness for it to be the trusted hydrant of Sri Lankan islanders for centuries past. They also work closely with the local farmers to support sustainable farming and fair trade. All the glass bottles and lids are recyclable. The shrink-wrap is also recyclable and all the king coconut shells accumulated every day are used to produce compost back on the plantation.