If Marijona can do it, so can you!
Marijona wants all the ladies to know something: you have to be fearless and always try to do your best. At 76 years old, she is still pushing her body to the limit, still running competitive races and taking on new challenges.
"The thing is that I have been battling epilepsy from a young age, and getting older and weaker is inevitable," Marijona said. "But it does not mean that I am not capable of trying my best! I even tried out the regional Paralympic Games back in Lithuania! The sky is the limit, and this body of mine will not be an obstacle. No pain no gain as the young ones say. And the best is yet to come."
Marijona grew up in Lithuania. Eventually, she moved to Dubai. As she retired, she began running in order to keep up with her daughter. And the Dubai Women's Run in 2017 was her first race ever in Dubai.  "The feeling of feeling fit and capable at any age is a real gift, a blessing." stated Marijona.
"I train every single morning, and run 5 kilometers at my own pace at 5am in the morning. And then in the afternoon, I speed walk 5 or 10 km or ride my bicycle.  During the month of the Dubai Fitness Challenge and with the training group of Hunter Foods Team, I am able to challenge myself even more.  My goal is to participate in Dubai Women's Run every year!  Let's see if I can beat my 52 minutes record from last year on the 5k."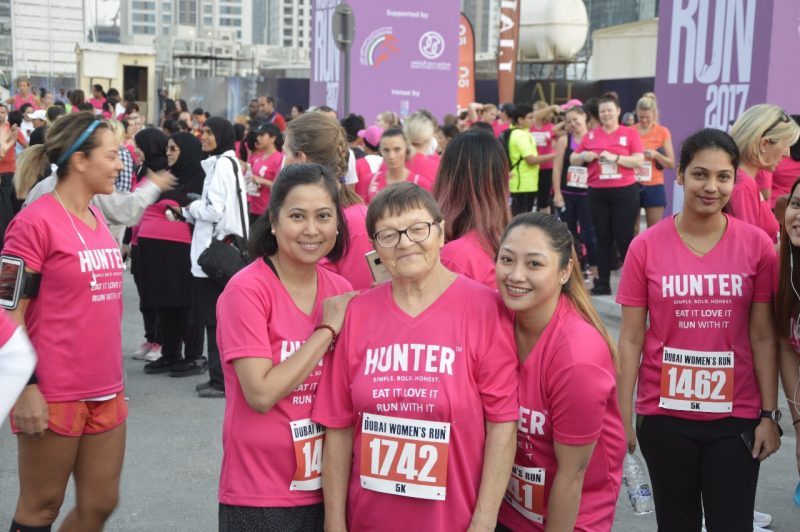 "I love this race, because no matter what age, shape or form you are in, you feel that you belong with all these women. And my daughter working with Hunter Foods has allowed me to participate in the Hunter Foods team with like minded women willing to accept any challenges, and I like that!"
"As for eating healthy, I do tend to adapt my family recipes with healthier foods such as amaranth, chia seeds, quinoa and wheatgrass powder. My standard breakfast is Lizi's high protein granola with yoghurt, which I learned from my fitness enthusiast daughter. I also love Hunter's Gourmet Beetroot Chips as beetroot is known in my home country as a great help in reducing blood pressure. Being a cancer stage one survivor, I also try to eat foods rich in flavonoids, cancer fighting natural antioxidants. Hunter's Gourmet Organic Cacao Nibs is one of such foods that I enjoy munching on a lot!"
"My tips for any women: listen to your body, try to stay as physically fit and mentally fit as you can.  Don't look and compare yourself to somebody else. Because you need to do YOU, and not anyone else. You matter, you are enough and you are exceptional!"
See you at the starting line with Marijona and the rest of the Hunter Foods' Dubai Women Run team!