Gluten-Free Gingerbread Cookies
Try out this healthy spin on a classic holiday treat: gingerbread cookies.
And in order to be gluten-free and vegan, we replaced the eggs by flax eggs (A flax egg is a vegan egg substitute, that is made up of ground flax seeds and water. It's 100% natural, vegan, gluten free, paleo). 
Ingredients:
 1 1/4 cups almond flour
1/2 cup tapioca starch (or potato starch)
1/4 cup coconut flour
1 teaspoon ginger
1/2 teaspoon cinnamon
1/4 teaspoon ground nutmeg
1/4 teaspoon baking soda
1/4 teaspoon sea salt
1 flax egg (1 T Hunter's Gourmet Organic Flax Seeds grounded + 3 T water)
3 tablespoons maple syrup
2 tablespoons honey
1 tablespoon olive oil (or oil of choice)
1 teaspoon vanilla extract
For the frosting
1/2 cup organic powdered sugar
1 tablespoon non-dairy milk
Instructions:
Preheat the oven to 180ºC

Whisk together the dry ingredients. Add flax egg, syrup, oil and vanilla and mix together until it forms a thick, pliable dough.

Transfer the dough to a parchment-lined surface. Place another sheet of parchment on top and roll the dough until it's about 3mm thick. Using a gingerbread man cutter, cut out the shapes and place them on the baking sheet.

Bake the cookies for 10 minutes. Remove from oven and allow to cool completely before frosting.

For the frosting, whisk together the sugar and milk. And pipe the frosting onto the cookies.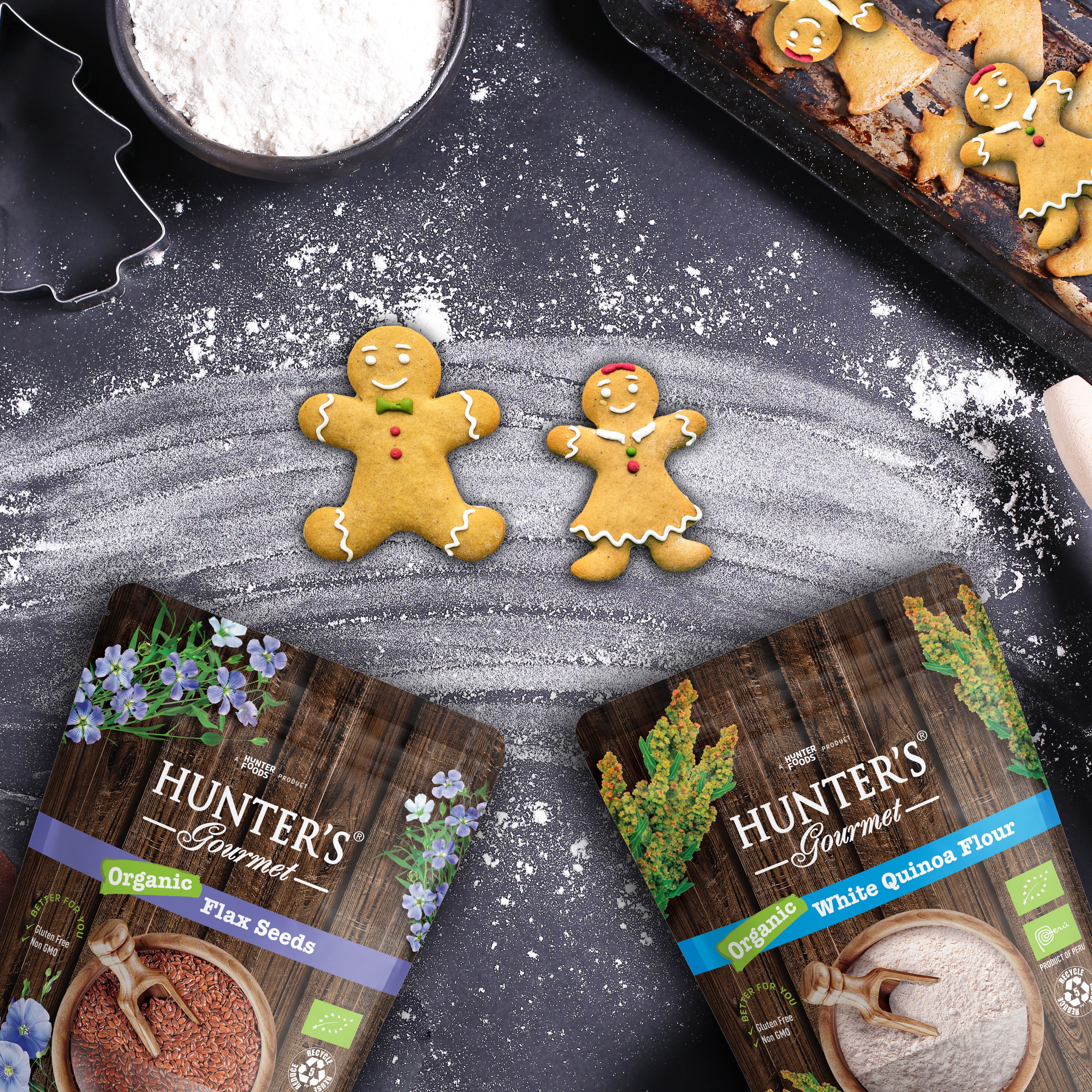 This gingerbread recipe is perfect to make with kids, and to eat with the rest of the family at Christmas or any time you fancy!