How to eat and snack better during Ramadan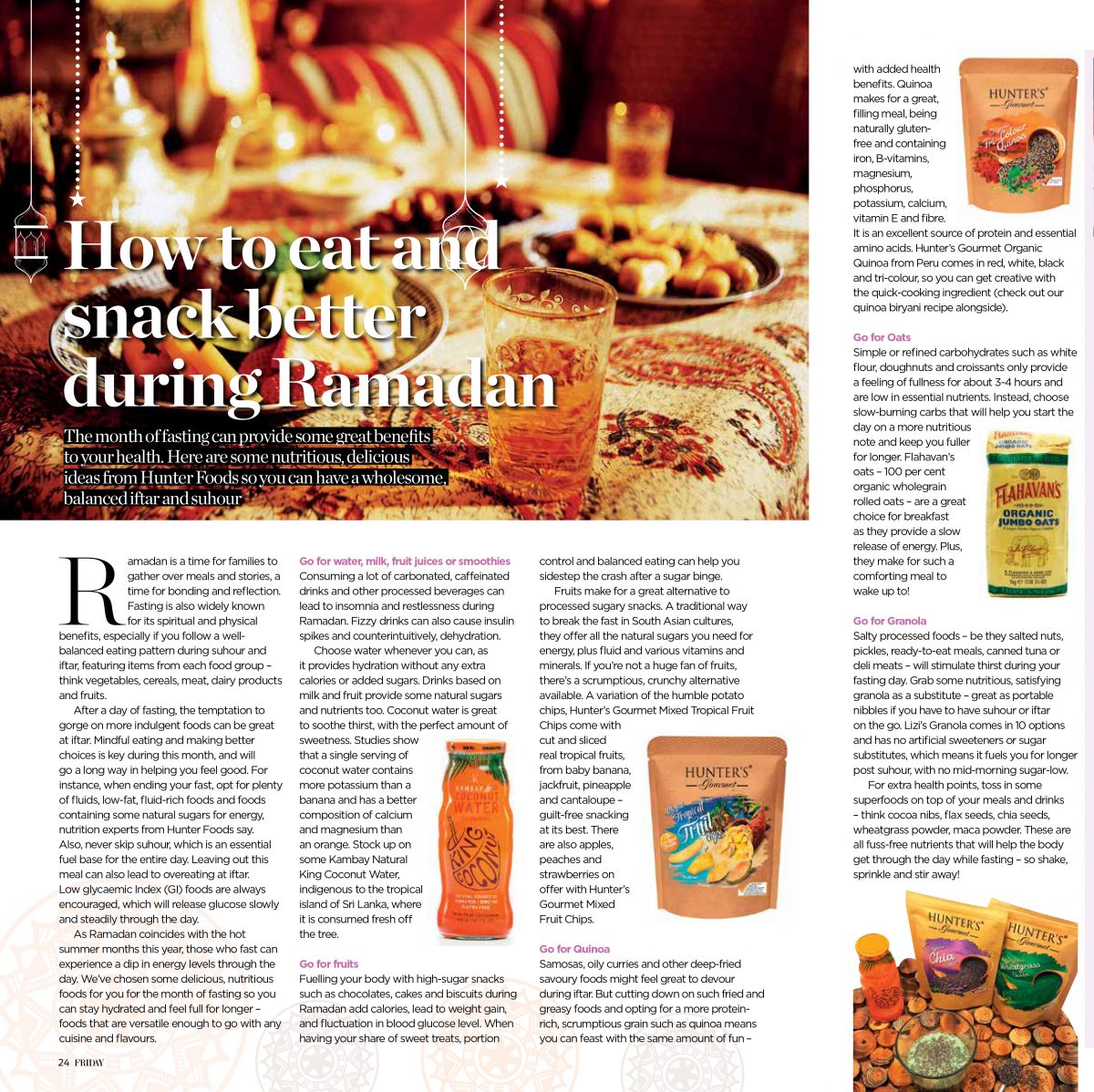 Did you get your copy of Friday Magazine this week?
The month of fasting can provide some great benefits to your health. Here are some nutritious, delicious ideas from Hunter Foods so you can have a wholesome, balanced iftar and suhour.
Ramadan is a time for families to gather over meals and stories, a time for bonding and reflection.
Fasting is also widely known for its spiritual and physical benefits, especially if you follow a well-balanced eating pattern during suhour and iftar, featuring items from each food group – think vegetables, cereals, meat, dairy products, and fruits.
After a day of fasting, the temptation to gorge on more indulgent foods can be great at iftar. Mindful eating and making better choices is key during this month and will go a long way in helping you feel good. For instance, when ending your fast, opt for plenty of fluids, low-fat, fluid-rich foods and foods containing some natural sugars for energy, nutrition experts from Hunter Foods say.
Also, never skip suhour, which is an essential fuel base for the entire day. Leaving out this meal can also lead to overeating at iftar.
Low glycaemic Index (GI) foods are always encouraged, which will release glucose slowly and steadily through the day.
As Ramadan coincides with the hot summer months this year, those who fast can experience a dip in energy levels through the day. We've chosen some delicious, nutritious foods for you for the month of fasting so you can stay hydrated and feel full for longer – foods that are versatile enough to go with any cuisine and flavours.
Go for water, milk, fruit juices or smoothies
Consuming a lot of carbonated, caffeinated drinks and other processed beverages can lead to insomnia and restlessness during Ramadan. Fizzy drinks can also cause insulin spikes and counterintuitively, dehydration.
Choose water whenever you can, as it provides hydration without any extra calories or added sugars. Drinks based on milk and fruit provide some natural sugars and nutrients too. Coconut water is great to soothe thirst, with the perfect amount of sweetness. Studies show that a single serving of coconut water contains more potassium than a banana and has a better composition of calcium and magnesium than an orange. Stock up on some Kambay Natural King Coconut Water, indigenous to the tropical island of Sri Lanka, where it is consumed fresh off the tree.
Go for fruits
Fuelling your body with high-sugar snacks such as chocolates, cakes, and biscuits during Ramadan add calories, lead to weight gain, and fluctuation in blood glucose level. When having your share of sweet treats, portion control and balanced eating can help you sidestep the crash after a sugar binge.
Fruits make for a great alternative to processed sugary snacks. A traditional way to break the fast in South Asian cultures, they offer all the natural sugars you need for energy, plus fluid and various vitamins and minerals. If you're not a huge fan of fruits, there's a scrumptious, crunchy alternative available. A variation of the humble potato chips, Hunter's Gourmet Mixed Tropical Fruit Chips come with cut and sliced real tropical fruits, from baby banana, jackfruit, pineapple and cantaloupe – guilt-free snacking at its best. There are also apples, peaches and strawberries on offer with Hunter's Gourmet Mixed Fruit Chips.
Go for Quinoa
Samosas, oily curries and other deep-fried savoury foods might feel great to devour during iftar. But cutting down on such fried and greasy foods and opting for a more protein-rich, scrumptious grain such as quinoa means you can feast with the same amount of fun with added health benefits. Quinoa makes for a great, filling meal, being naturally gluten- free and containing iron, B-vitamins, magnesium, phosphorus, potassium, calcium, vitamin E and fibre.
It is an excellent source of protein and essential amino acids. Hunter's Gourmet Organic Quinoa from Peru comes in red, white, black and tri-colour, so you can get creative with the quick-cooking ingredient (check out our quinoa biryani recipe alongside).
Go for Oats
Simple or refined carbohydrates such as white flour, doughnuts and croissants only provide a feeling of fullness for about 3-4 hours and are low in essential nutrients. Instead, choose slow-burning carbs that will help you start the day on a more nutritious note and keep you fuller for longer. Flahavan's oats – 100 per cent organic wholegrain rolled oats – are a great choice for breakfast as they provide a slow release of energy. Plus, they make for such a comforting meal to wake up to!
Go for Granola
Salty processed foods – be they salted nuts, pickles, ready-to-eat meals, canned tuna or deli meats – will stimulate thirst during your fasting day. Grab some nutritious, satisfying granola as a substitute – great as portable nibbles if you have to have suhour or iftar on the go. Lizi's Granola comes in 10 options and has no artificial sweeteners or sugar substitutes, which means it fuels you for longer post suhour, with no mid-morning sugar-low.
For extra health points, toss in some superfoods on top of your meals and drinks – think cocoa nibs, flax seeds, chia seeds, wheatgrass powder, maca powder. These are all fuss-free nutrients that will help the body get through the day while fasting – so shake, sprinkle and stir away!